digital games
K-QWOP Fusion Dance
Summary: K-QWOP Fusion Dance is a short Twine game, inspired by Bennett Foddy's QWOP. Players must use the QWOP keys to mimic dance moves performed by an instructor. The game was a personal exploration of how dancing feels as someone who has a serious disconnect between brain and body, and QWOP's hilarious physics was a perfect expression of that sentiment, combined with the memorization required to do complicated choreography.

Engine: Twine | Date: February 2023 | Length: 5-10 minutes
Skills Showcased: writing choice-based narratives, tracking and displaying variables, describing physical actions effectively with dialogue, creating a short, tightly knit narrative.
---
Comeback Overdrive
Summary: Comeback Overdrive is a text-based game following two playable characters: Hannah, an esports pro for the popular game Shotgun Overdrive, and Anna, a military vet turned video game streamer. When Hannah is forced to retire due to an injury, she discovers Anna – streaming under the handle GamingGrandma – and decides to coach her to victory in the next Shotgun League World Championships. This game is a proof of concept prototype for a visual novel, where players can follow either Hannah or Anna on their path to glory. It applies the classic "underdog sports team" trope to an esports setting, with the twist that the grizzled retired pro turned reluctant coach is a young woman in her late teens, and the fresh rookie with the skills to bring the team victory is a 55-year old ex-Army sniper.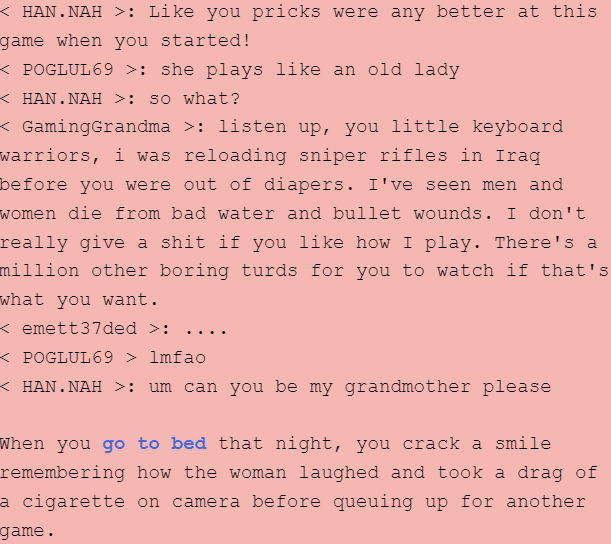 Engine: Twine | Date: June 2022 | Length: 10-15 minutes
Skills Showcased: writing choice-based narratives, tracking and displaying variables, mimicking chat logs, writing humorous or light-hearted plot lines.
---
Elf Quest
Summary: Elf Quest is a 2D role-playing game, where players must help Nelly the elf find Santa after he goes missing during his Christmas Eve journey. Nelly needs to gather a crack team of children to help discover Santa's whereabouts, and get him back in the sky. This game was created over 3 weeks for my family one Christmas and therefore had to appeal to an audience spanning a wide range of ages (6-60) and familiarity with video games. Each family member provided one or two details they wanted their characters to have, so the story was created to accommodate these constraints.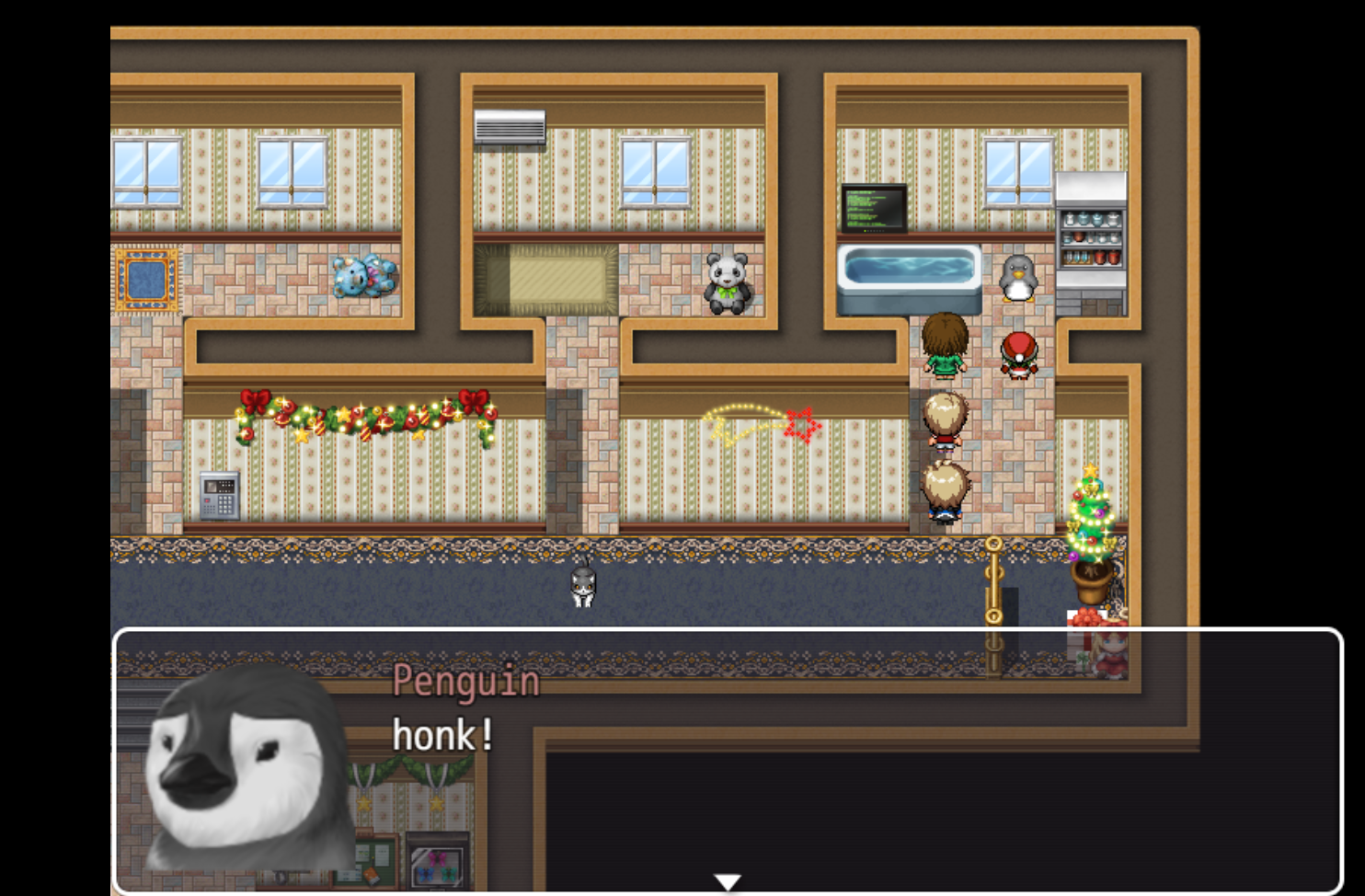 Engine: RPG Maker MV | Date: December 2018 (initial), June 2022 (wider release) | Length: 45-60 minutes
Skills Showcased: creating quest system, including item descriptions and visual indicators, writing narrative suitable for children and adults, writing light-hearted and comedic dialogue, ability to fit plot within provided constraints.
---
The Thousand Day Queen
Summary: The Thousand Day Queen is a 2D role-playing game about a maid in Tudor England in the days following the beheading of Anne Boleyn. After her execution, Henry VIII purged his castles of any trace of his former queen before installing his new one, so players must collect a few items to preserve for posterity and for Anne's daughter, Elizabeth I. I used real historical items, like the preserved clock and Bible, to speculate about how such items might have escaped the king's wrath. This game was created over a week long period for a class on educational games.
Engine: RPG Maker MV | Date: February 2018 | Length: 20-30 minutes.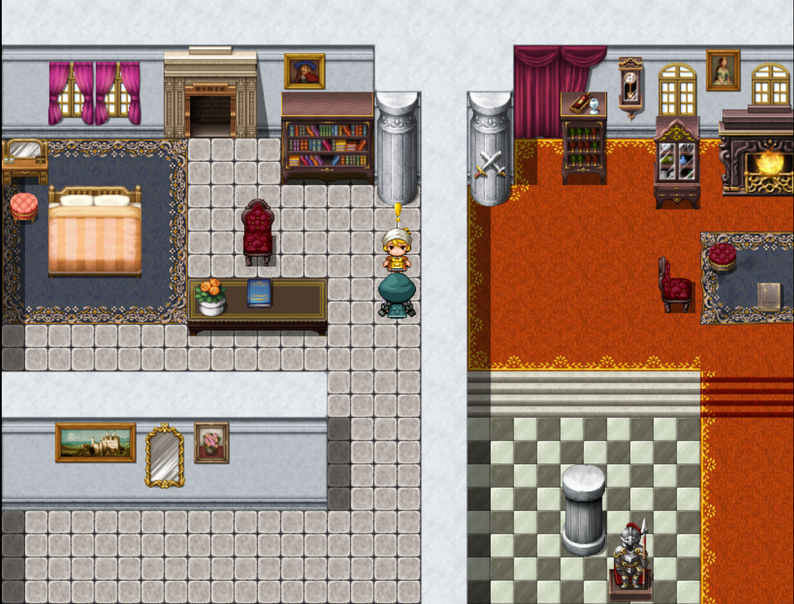 Skills Showcased: writing that is both entertaining and informative, designing quest system with visual indicators and mini-games, creating and releasing a game on deadline.
---
i'm you but weaker
Summary: i'm you but weaker is an interactive fictional story that reflects on the nature of abuse, and the ways in which survivors are treated with hostility and suspicion by the court system. The unnamed player character, on the stand as a witness against an alleged abuser, is abrasive and sometimes cruel – in other words, not a perfect victim – and therefore, her case is dismissed by the lawyers and jury. i'm you but weaker is a personal exploration of the cycles of trauma.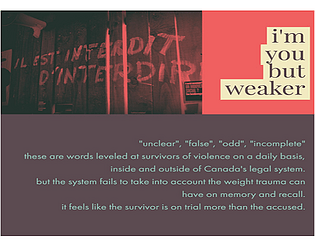 Engine: Twine | Date: October 2016
Skills Showcased: writing choice-based narrative, exploring difficult or challenging topics, enhancing narrative with text effects and music, writing unlikeable characters.
---
Remains of the Day
Summary: Remains of the Day is my first Twine game, created for Tower Jam, a game jam "inspired by characters in video games who don't have agency". The game plays from the perspective of Hawke's mother, Leandra, from Dragon Age 2, when she is kidnapped by a man killing women to recreate his dead wife. Though the outcome remains the same as in canon, I wanted to explore Leandra as a character in her own right, fighting against her fate to return to her children, rather than just a narrative goad for Hawke's journey through Kirkwall.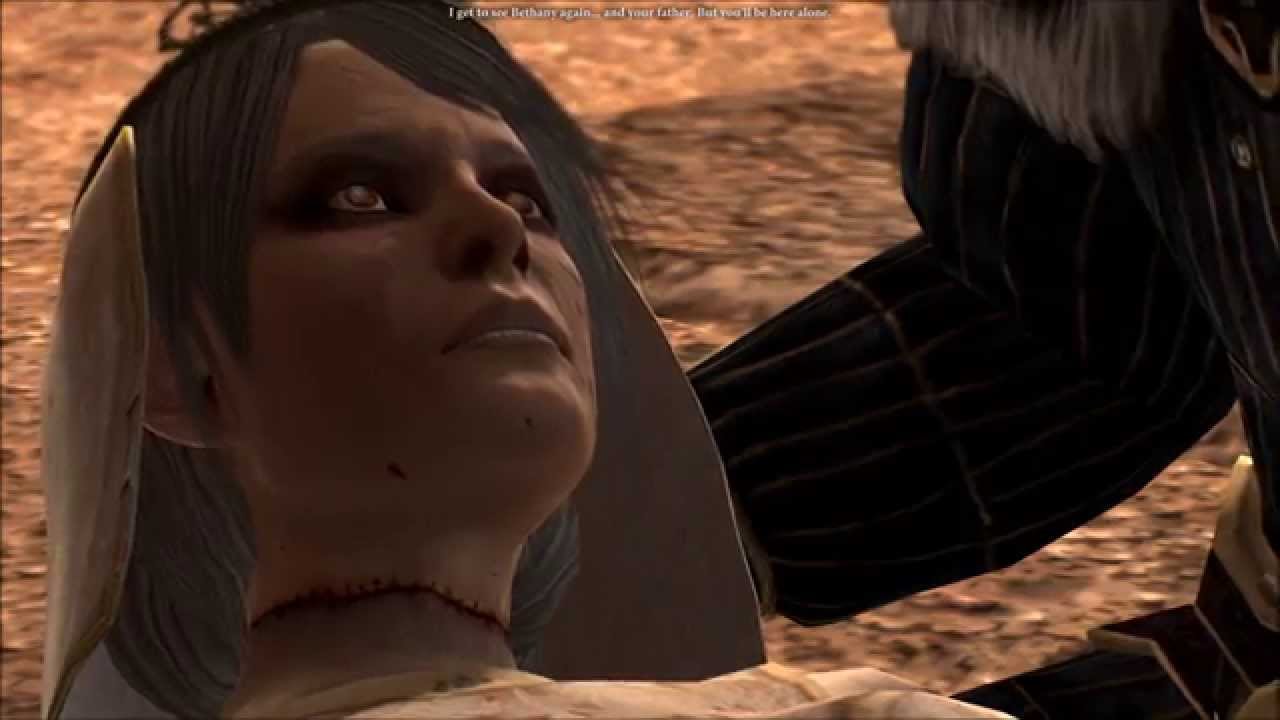 Engine: Twine 1.0 | Date: October 2013 | Length: 10-15 minutes
Skills Showcased: writing within an established universe, writing choice-based narrative, creating an escape-the-room style mystery.
---
Switches' Brew
Summary: Switches' Brew is a tiny match-3 game. Players must match mystical potions, gems and spell books to get the highest score possible in a set number of moves. It was designed solo for a game jam with the theme "witchy drinks". This was my first time making a game in Unity, and the jam was only a week long, so I stuck to the minimum viable product, but the design document envisioned an expanded version where players must match certain amounts of ingredients to cast spells, with a wraparound narrative.
Engine: Unity | Date: August 2019
Skills Showcased: editing free assets for fast creation/prototyping, ability to work within scope, working with an established theme or idea.
analogue games
Burger Maestro
Summary: Burger Maestro is a tabletop RPG one-shot about running a rogue fast-food franchise, based on the "South Side Fake Burger King" story. Players must walk the tightrope between chaos and infamy keeping their Burger Maestro franchise afloat for six weeks, without getting shut down by corporate. This one-shot is intended to be a fast and funny starter experience for players new to TTRPGs. Created for the Stationary Stationery Game Jam.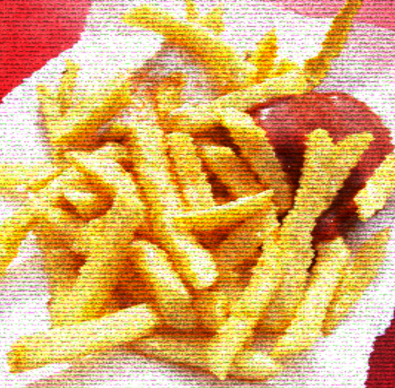 Engine: Google Docs, Canva | Date: Summer 2020 | Length: 1.5 – 3 hours
Skills Showcased: creating an approachable and beginner-friendly TTRPG experience, writing comedy, creating, testing and publishing a game within a short time frame.
---
Anarkiva
Summary: Anarkiva is a tabletop RPG supplement written for Crit DMG Zine #1. An oral storytelling supplement that explores knowledge preservation and transmission, players must re-create stories based on scraps of pages for the archivists of underground Anarkiva after a massive apocalyptic event. Worldbuilding for the zine's supplements was done together with the other participants, so the supplement can be played as a standalone session or in conjunction with other supplements available in the volume.

Engine: Google Docs | Date: Fall 2021 | Length: 1 – 1.5 hours
Skills Showcased: memorable world-building within a strict page limit, collaborative creativity, writing a guided storytelling experience to encourage player reflexivity.
---
amuze unlocked: Art Escape Room
Summary: amuze unlocked was an art-based escape room designed to engage players with the world of visual art. Players have 60 minutes to unravel mystery behind the vandalism of several museum paintings, using hand-held screens to let them see into the other realm where the mischief-makers live. My responsibilities on the project included research into folklore and the history of the paintings that would be displayed as part of the escape room, writing scripts for the game hosts to perform and assisting in the design and testing of the puzzle prototypes. Once complete, the prototypes and scripts were shipped to Zurich to be assembled in full size for amuze unlocked.
Engine: Google docs & physical prototyping materials (paper, wood, magnets, transparency, etc.) | Date: 2018 | Length: 60 minutes
Skills Showcased: working for a client with a specific goal, taking and incorporating client feedback, incorporating narrative design with puzzle design, maintaining narrative cohesion between disparate elements such as pre-selected paintings.